India is the land of the mystic and the land of spiritualism – let us help you experience the best of every city, and not just explore it, but become a part of it.
India City Walks aims to help everyone explore the story of India. We enable the best delivery of thematic heritage experiences. India City Walks is a three-time National Tourism Award winner and a Hall of Fame award winner from the Ministry of Tourism, Government of India. We are committed to showcase the Indian culture in the most authentic way. Heritage for us is an arena where the country, its citizens and the future generations will associate their identity, as a maker of a proud country with a repository of vast heritage sites. We believe in recreating the past, upholding the values of Indian culture and preserve the same for the generations to come. In the process, we undertake all aspects of tangible and in-tangible heritage arenas as our services and products, city-wise and pan-India.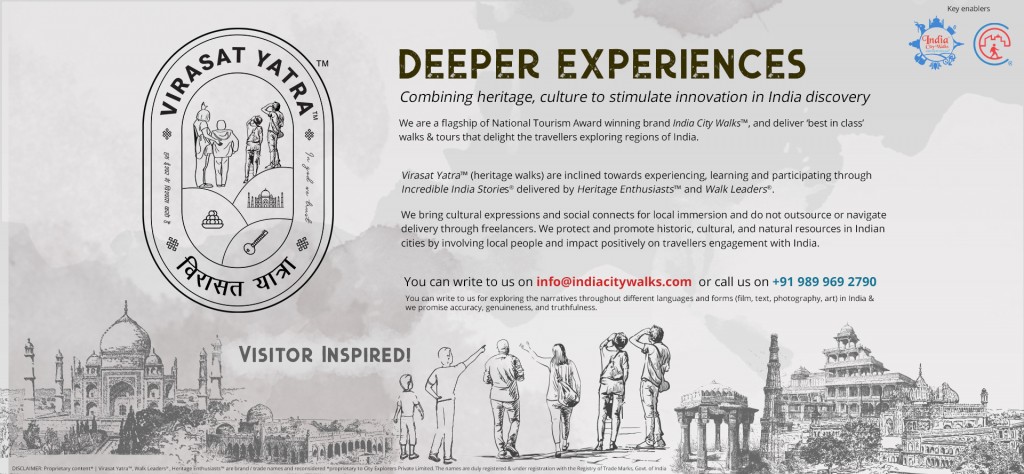 Virasat Yatra® is our tourism product and a concept that literally translates to 'heritage travel', and makes the entire country a platform for cultural showcase. It is a land with the fusion of modernity and tradition; the vibrant colours of India are truly captivating. Be at one with the bustling cities, surrender to the simplicity of villages and be touched by the spirituality of this land. A journey through India is enriching, inspiring and unforgettable. Under our experience initiative 'Virasat Yatra' we experience the iconic sites with their lesser known anecdotes. A heritage site can be appreciated only when one believes in reaching out to the destination, explore it with the locals and encourage more travellers to visit the same.
We at India City Walks strive to create memories to last a lifetime by delving beneath the surface of your chosen destination. We offer a range of fantastic tours in India, allowing you to experience these cities up close and explore the different cultures and exotic environments.



Together as a community we make every effort to protect our common future in cultural heritage. We Are Monument Friends® and put effort into development of local tourism through our impact initiative My Neighbourhood My Heritage®. We actively support the 'new' ways of experiencing the historic and cultural spaces, ways that reflect the cultural immersion. Our vision at City Explorers Private Limited (CEPL®) is to facilitate experiences delivery and promote better understanding of India's cultural identity through tourism offerings.Our brands help in preserving and enhancing natural and cultural heritage as a source of socio-cultural and local exploration. Our flagships empower creativity in tourism through strong storyline and offer opportunities to locals. Our brand portfolio fosters inclusivity and diversity. As travellers become sensitive to local cultures and seek authentic experiences, they provide economic support to the local community. As promoters of responsible and sustainable tourism, preserving a community's cultural heritage has been among the responsibilities of India City Walks and we shall continue to do so.

Under Virasat Yatra we offer full range of experiences which visitors can undertake to know diversity led distinctive legacy of India.Our value proposition is to create a relation between history, culture, interests, skills to bring awareness. The delivery team consist of Heritage Walk Leader®, Purist®, Heritage Enthusiasts®, Kathalar®, Storywallah® and City Explorers®. All of this ensures the future of local experiences for everyone's direct benefit. We promote history, cultural heritage and traditions of the place for local immersion and engaging experiences.
Feel free to contact us in order to find out which walk suits you the best. You can reach us through email during weekends and holidays.
Connect with us at nidhi@indiacitywalks.com  |  +91 989 969 2790