India has a new story to share at each step, an ancient tradition to relive at every nook and cranny, a medieval structure to upkeep at every turn of the road and a modern interpretation to listen at the end of the road.
City Explorers® is a responsible travel company that offers immersive and sustainable travel experiences in cities across India. The company was founded by Sachin Bansal and Nidhi Bansal with the goal of creating a positive impact on travellers exploring India and local communities involved in delivery of experiences. They believe that travel should be a source of inspiration and a means to promote sustainability and discovery.
Sachin and Nidhi have a strong background in the travel and tourism industry, and they have leveraged their expertise to create a company that is truly dedicated to sustainable tourism. Under their leadership, City Explorers has become a leader in city sightseeing led tours & activities and delivering slow experiences® with thematic opportunities to discover India.  The team members minimize their impact on the environment and care about #climate #locals #water #dataprivacy #equity #diversity #inclusion #sustainability and #ethics.
About NIDHI BANSAL –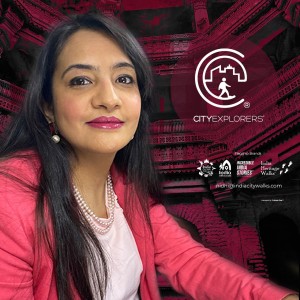 Nidhi Bansal is the Group CEO of City Explorers Pvt Ltd. She has spent fruitful 20 plus years in the most elevated echelons of the hospitality industry like the Taj, Marriott, The Oberois, followed by a thriving career at Genpact. Her endeavour has been to support women empowerment, creating social impact through meaningful real-life travel experiences for everyone's direct benefit. Backed by top notch qualifications like a Bachelor's from IIHM, a diploma from the Taj School of Hotel Management and Bachelor's in Hospitality Management from University of Huddersfield, UK she is also a trained Green Belt in Six Sigma. The tag of being a certified Change Management Specialist from PROSCI (USA) sits pretty on her shoulder. Recently Nidhi has been listed among the Most Inspiring Women Travel Founders.
She has enhanced the India discovery through historical spaces and active in creating employment opportunities related to heritage, art, design & gastronomy. She promotes cultural heritage of India with an innovative model for maximising the economic impact through skill development, appreciation programs for neighbourhoods and working in tandem with local communities. Most of the business portfolio offerings revolve around real life experiences with adherence to authenticity appropriated with stories. The priority is given to education and training initiatives, leading to a more efficient experience delivery of heritage walks, storytelling sessions , festival experiences, workshops, tours etc more.
About SACHIN BANSAL –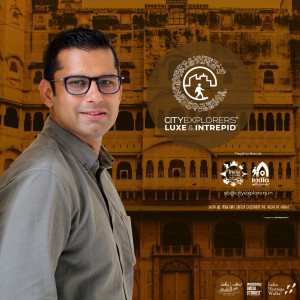 Sachin is the Founder and Chief Explorer®, of City Explorers Pvt Ltd is a destination branding specialist who understands the opportunities of using guided tourism experiences. He argues that "it is time to take a step further for tourism opportunities to be able to return to the environment, the society and the people through developing a cultural and heritage tourism product in a meaningful way."
Sachin has exhibited strategic leadership with a visionary approach to promote Indian heritage via tourism. He has earned the epithet of the 'rising sun' in the tourism industry with innovative leadership in his entrepreneurial journey. Inspired by his love for India and its cultural hues, his vision is to connect residents and travellers to the cultural roots, local communities, taking pride in its lineage, and giving it back to the society in multiple ways. He has utilised the design thinking approach for harnessing new markets, thereby setting and redefining future standards through intellectual properties. Sachin's tourism initiatives bring sustainable outcomes for the host communities & grow their earnings potential. His focus is on Story Living sup®, and Sachin is in constant state of innovation to offer best possible local experiences integrating travel, food, entertainment & craftsmanship for everyone's direct benefit. At every step he has identified local identities to ensure sustainability of cultural legacy.
About INDIA CITY WALKS – ICW® is a recipient of HALL OF FAME award by Ministry of Tourism, Govt of India. Also, a Three Time National Tourism Award winning brand, ICW® offers meaningful travel to celebrate India. The brand is famous for their India Experiences™, curated heritage events, storytelling sessions and is widely recognized for their commitment to unsurpassed guest service with personalised attention. The parent company City Explorers Pvt Limited has a strategic portfolio of intellectual properties and a thorough branding process is undertaken to showcase India differently. Some of their famous flagships are India City Walks®, Storytellers of India®, India Heritage Walks®, Delhi Walks®, India with Locals®, Regenerative Travel®, Varanasi Heritage Walks®, Delhi Walks®, Art Walks® and more. The multi-lingual team members are designated as Walk Leaders®, City Champion®, City Explorers®, City Mavericks®, Monument Friends®, Heritage Heroes™, Kathakar®, Heritage Enthusiasts®, Tourprenuer®, Virtual Explorer® and Heritage Walk Leader®.
For more information and to connect with Founders you may write to us one info@indiacitywalks.com