Our Rickshaw Tours™ are must to explore the city… Just sit back, relax and enjoy the ride!™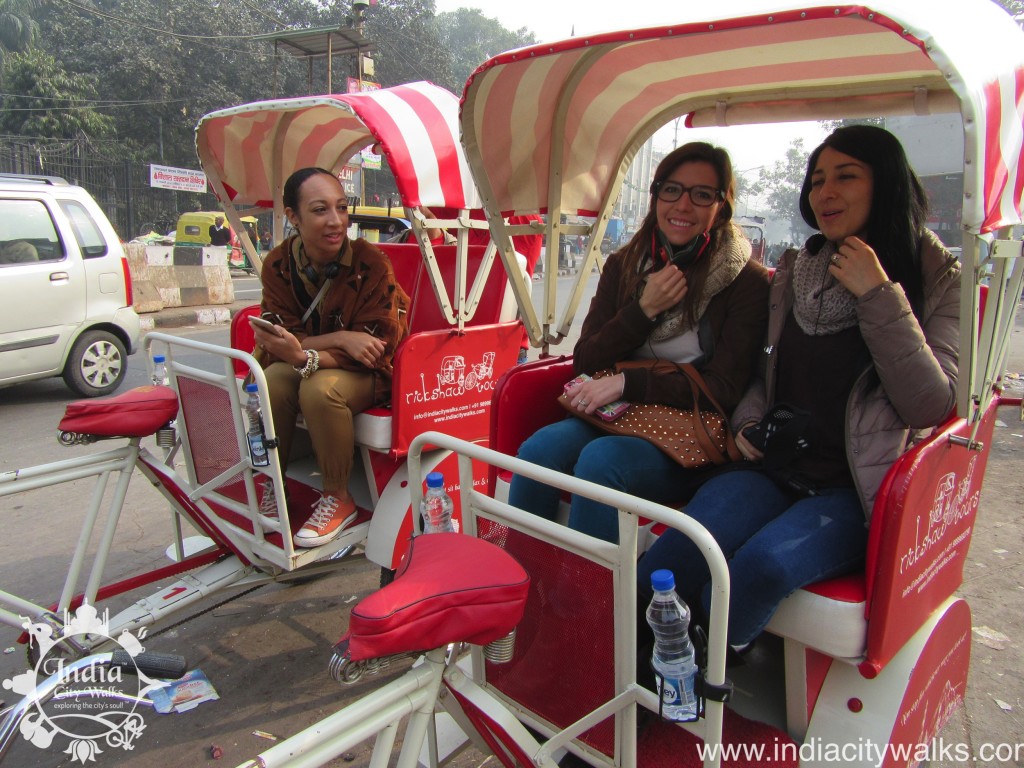 A city is best explored through walking but if you are looking for something more than just exploration with a little bit of adventure then you must experience our bestseller rickshaw tours.
Discover Old Delhi also known as Shahjahanabad which is a fascinating part of Delhi's mughal heritage on a rickshaw.We make sure that each of our tours are perfectly tailored and provide you the best experience. It is our passion to deliver a truly memorable experience and at the same time keep you as safe as possible.
OUR EXPERIENCES ARE DIVERSE, INTEGRATED WITH SOCIO-CULTURAL EXPEDITIONS FROM AWARD-WINNING TOURISM PRODUCTS TO CURATED NEIGHBOURHOOD WALKS. WE CELEBRATE INDIA WITH YOU.
Rickshaw Tours is the perfect way to see the city in an adventurous way!
India is a land of diverse cultures, religions, and traditions, and what better way to explore this vibrant country than by going on a rickshaw tour with India City Walks™. While walking is undoubtedly one of the best ways to explore a city, rickshaw tours™ offer a unique and exciting way to experience India's beauty, history, and culture.
India City Walks™ offers a range of rickshaw tours™ across different cities, each providing a unique perspective of the city's history and culture. One of the most popular rickshaw tours is the Old Delhi tour, which takes you through the streets of Shahjahanabad, a fascinating part of Delhi's Mughal heritage. The tour offers a glimpse into the city's rich history, the legacy of the Mughal emperors, and the hustle and bustle of daily life in the old city.
During the rickshaw tour, travellers will be able to immerse themselves in the sights, sounds, and smells of Old Delhi's narrow lanes, historical buildings, and vibrant markets. They will get the opportunity to see the Jama Masjid (*optional pit-stop), one of India's largest mosques, and the Red Fort (*optional pit-stop), a UNESCO World Heritage Site that was once the residence of Mughal emperor. Moreover, the rickshaw tour™ also takes visitors to some of the city's most renowned food places, where they can relish local delicacies and experience Delhi's vibrant food culture. The Old Delhi rickshaw tour is an exceptional way to discover the city's rich history and culture, providing an enjoyable and informative experience for all kinds of tarvelers.
Connect with us at nidhi@indiacitywalks.com  |  +91 989 969 2790






What sets India City Walks™ apart is its focus on providing a safe and authentic experience for its customers. We take great care to ensure that each tour is perfectly tailored to the needs and preferences of its customers. We have a team of experienced guides known as culture insiders®, walk leaders®, city explorers® who are passionate about their work and strive to provide you with a truly memorable experience.
In addition to rickshaw tours™, India City Walks™ also offers a range of other experiences, from award-winning tourism products to curated neighborhood walks. The company's experiences are diverse and integrated with socio-cultural expeditions, providing you with a unique perspective on India's culture and traditions.
Apart from the Old Delhi tour, India City Walks™ offers a range of rickshaw tours™ in other cities such as Jaipur, Udaipur, Bhopal and Varanasi. Each tour is designed to provide you with an immersive experience of the city's culture and history, allowing you to interact with locals, taste local food, and explore hidden gems.
RICKSHAW TOURS™ with India City Walks™ are the perfect way to explore India's diverse culture, history, and traditions. Whether you're a first-time visitor or a seasoned traveler, these tours offer an authentic and immersive experience that will leave you with memories that will last a lifetime. So, the next time you plan a trip to India, be sure to include a rickshaw tour with India City Walks™ in your itinerary.
Join us in our Rickshaw Tours and see every city with a different perspective. In all the tours terms and conditions apply. The prices mentioned are exclusive of taxes and transaction fees.