Great Walks with delicious food…
The culinary and cultural heritage of India illustrates the harmonious blending of diverse influences over the centuries. Indian cuisine displays the genius of our culture and our people. As time passed, the curiosity for taste and variety lead to the interaction of various regions of the country thus influencing each other's cuisine and flavours.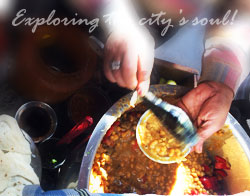 We give visitors a glimpse of the city in a way they have never seen before and our Street Food Walks takes this one step ahead. Explore the mystic India and get a chance to go behind the scenes, experience the culinary delights and meet some of the chefs, bakers and families who have been providing fabulous food for generations.
We create programs for gastronomic adventure, learning and enjoyment keeping in mind your tastes and preferences.
Food is our common ground & we create culinary experiences just for you
Feel free to contact us in order to find out which walk suits you the best. You can reach us through email during weekends and holidays.
Connect with us at nidhi@indiacitywalks.com  |  +91 989 969 2790