The concept of "Cycle Tours" is based on creating moments for those who love being outdoors and active
We at India City Walks love to explore cities and new places and what we love more than that is to look for new ways to make the exploration even more exciting. Our Cycle Tours are unbounded and one of the best ways to adventurously experience a city.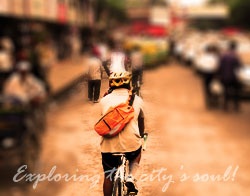 Cycling today is becoming one of the best ways to see & experience a city and is now becoming a consistent feature of tours; creating ideal getaways for everyone who love being active and discovering cultures.
India is an ever-growing opportunity with speedily increasing market segments. Whether you are a cycling enthusiast or an individual seeking a new business, we help you in creating business enterprises capable of stimulating growth. Join us and look out for our regular updates on upcoming tours.
Connect with us at nidhi@indiacitywalks.com  |  +91 989 969 2790