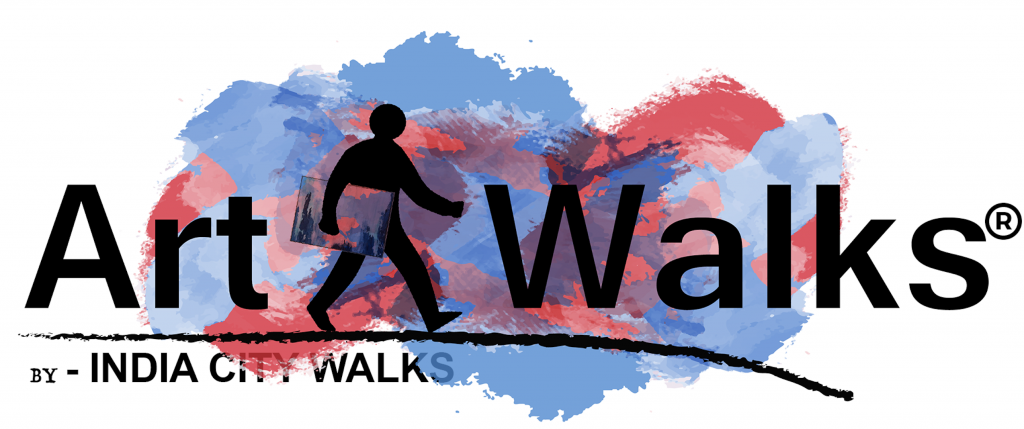 Our city showcase through ART WALKS® iscurated to capture the essence of Indian art & unfold it in an engaging manner
"Attention Art Lovers!
Get ready to immerse yourself in the world of art with 'India City Walks' curated ART WALKS®!
Our national award-winning team of expert explorers & culture insiders® take you on a fascinating journey through the city, exploring the hidden gems of art and culture.
From contemporary galleries to traditional art forms, our ART WALKS® will open your eyes to the rich and diverse art scene in India. Discover the vibrant street art, intricate sculptures, stunning murals, and much more. Our culture insiders® will share their knowledge and insights about the art, the artists, and the history behind each piece.
Whether you're an art enthusiast or a curious explorer, our ART WALKS® have something for everyone. Join us on a journey of discovery and experience the beauty and magic of art in a whole new way. Art Walks® operate in conjunction with India City Walks™ and is a brand of City Explorers Private Limited (CEPL®). Art Walks® was initiated in year 2014 in association with Delhi Walks® to take participants on a journey through the city's art scene, offering insights into its cultural heritage and artistic traditions. These walks are designed to be immersive experiences that offer a unique perspective on the city's diverse artistic landscape. We aim to facilitate art related theme walks, tours and activities to promote better understanding of India's cultural identity through tourism offerings. Through our Art Walks®, we strive to promote cultural heritage and raise awareness about the importance of art in society. As a company, we are committed to creating sustainable and responsible tourism, and to supporting local communities and artists.
We are proud to offer Art Walks® as a unique and innovative way to explore the vibrant art scene in India, and we are dedicated to maintaining the highest standards of quality and excellence in all our tours. Whether you're a seasoned art enthusiast or a first-time visitor, our Art Walks® offer an unforgettable and enriching experience that will stay with you for years to come. It's important to note that Art Walks® is an intellectual property of City Explorers Pvt Ltd, the parent company of India City Walks™. Our ART WALKS® are the result of years of research, curation, and expertise, and have been carefully designed to offer visitors an unforgettable experience of India's art and culture.
To book your ART WALKS® with India City Walks email us on info@indiacitywalks.com and explore the city's hidden art treasures with our award-winning team of guides. Let's celebrate the beauty of art together!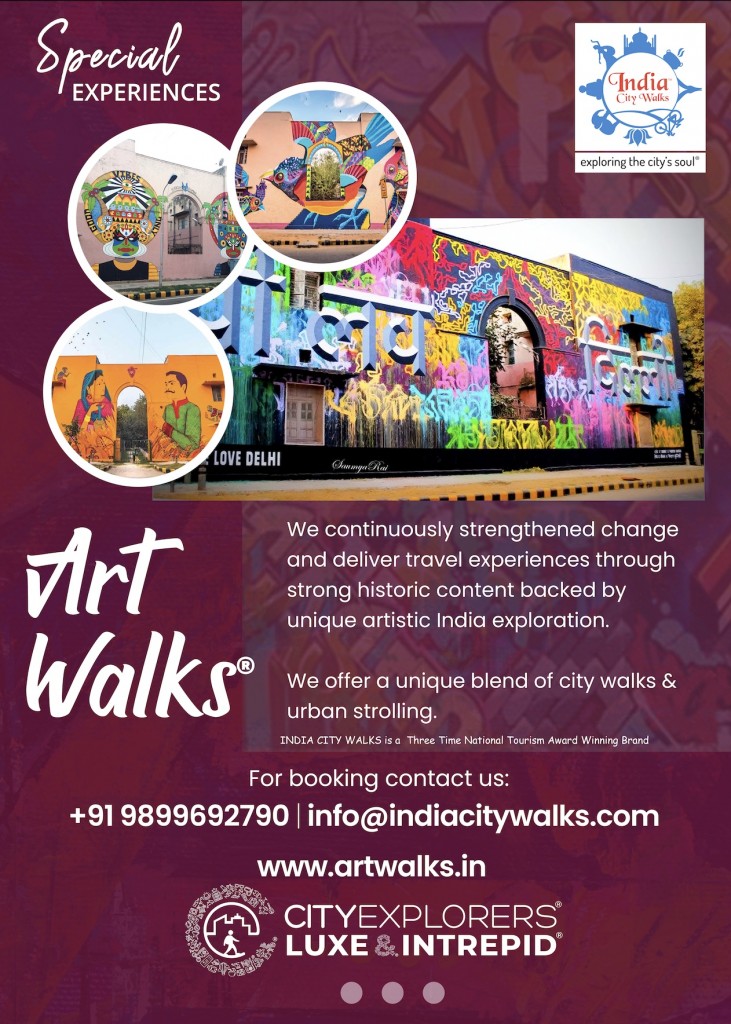 In addition to the traditional and contemporary art forms, India City Walks™ curated ART WALKS® also provide a unique perspective on the world of graffiti and street art in India. Graffiti and street art have gained significant popularity in recent years, and have become an important part of the urban art scene in many Indian cities.
Graffiti and street art in India are often used as a means of self-expression and social commentary. Artists use public spaces to create works that reflect their personal views on politics, society, and culture. These works often convey powerful messages and engage viewers in thought-provoking discussions.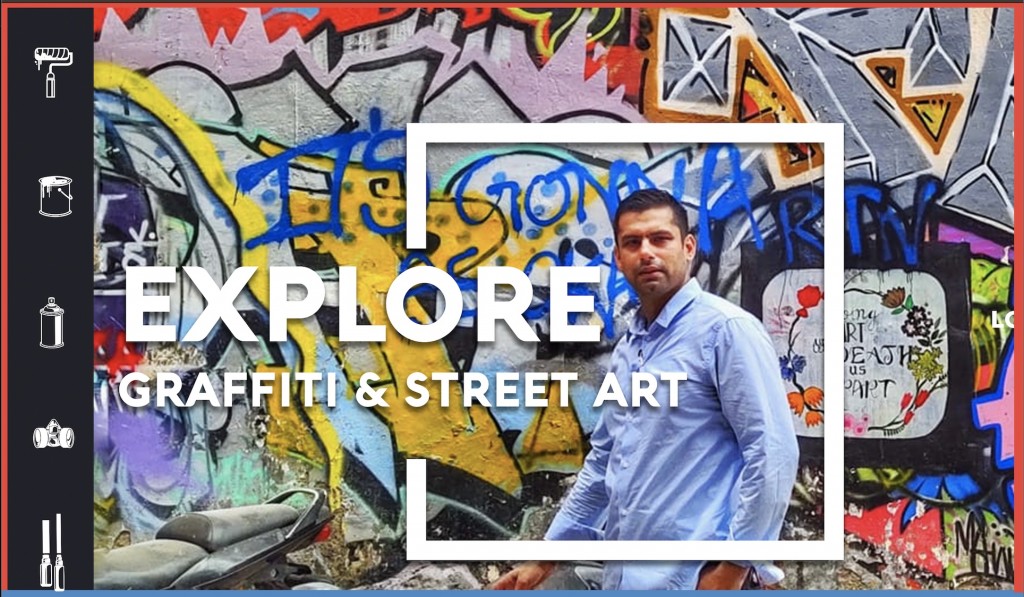 Our theme based ART WALKS® provide an opportunity to explore the world of graffiti and street art in India, and to learn about the artists and their works. Visitors will have the opportunity to see how these forms of art are used to express social and political issues, and to gain a deeper understanding of the cultural context in which they are created.
Furthermore, street art and graffiti have the potential to transform urban spaces and engage communities in creative expression. Our ART WALKS® showcase the vibrant and dynamic energy of India's street art scene, and how it adds to the character and beauty of the city.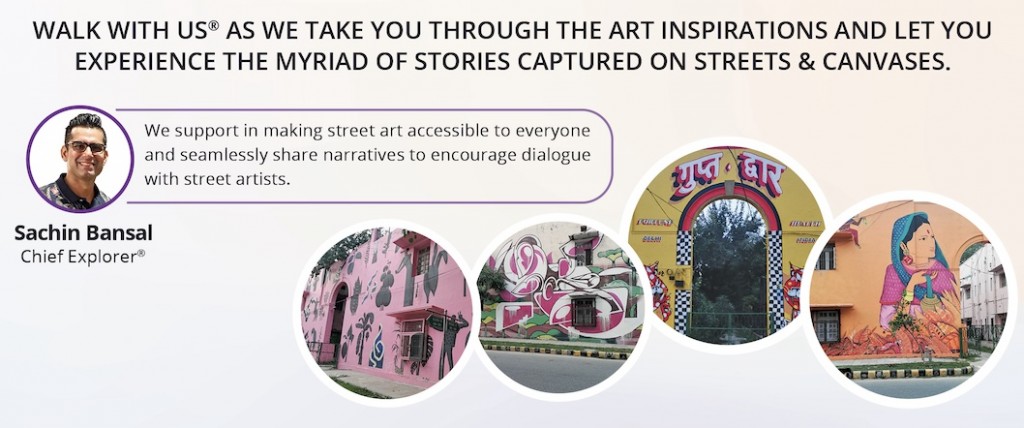 India City Walks™ delivers ART WALKS® to provide a unique and immersive way to explore the diverse art and culture of India, including the vibrant world of graffiti and street art. Whether you're an art lover, a cultural explorer, or simply curious to learn more, our ART WALKS® offer a rich and unforgettable experience that will leave you inspired and enriched.
All pictures used in our posts are taken from web sources and the rights remain with the original creators. These pictures are used solely for the purpose of creating awareness and promoting the art and culture of India. The domain ARTWALKS.in is a domain owned and operated by India City Walks. This website is being used to showcase our larger offering of Art Walks® and other curated tours. We have set up domain forwarding to ensure that visitors to the website are directed to the relevant pages on our main website, where they can access detailed information about our tours and book their preferred tour packages.