India, the delta of Asia is an amalgamation of culture, history, heritage, spirituality, cuisines, and multiple microscopic socio-cultural narratives. Known as the second most populated country of the world but that has never held it back from identifying itself as an example of multi-cultural, multi-lingual, state which has made its mark in the world map.
In this space of growing economy and technology there are some who wish to protect, preserve and nurture the fundamentals of our India cultural identity.
Our  impact initiatives  'Connecting Communities™', 'I Love Heritage®', 'Socially Conscious™' are  passionately designed as a social impact arm of our organisation, CITY EXPLORERS PRIVATE LIMITED to bring sustainable, responsible efforts within the experiential tourism value chain.
We have devised an all-inclusive strategy, connect & make an ecosystem where people could participate, engage, interact, act, and reciprocate towards the betterment of their society, heritage and culture. Many feel 'heritage' or 'cultural heritage' should not be a concern. To some it may feel, how can Heritage bring social impact or how could cultural heritage be as important as poverty, safe drinking water, right to education or sanitation, good health and hunger? 'Connecting Communities™'  helps you answer these questions and being 'Socially Conscious™'  lets you 'think' beyond the horizon. The root cause to most human problems have been around poverty, leading to limited access to the basics. Our initiative taps to the root cause through cultural heritage.
We Are Monument Friends® and put effort into development of local tourism through our impact initiative My Neighbourhood My Heritage®.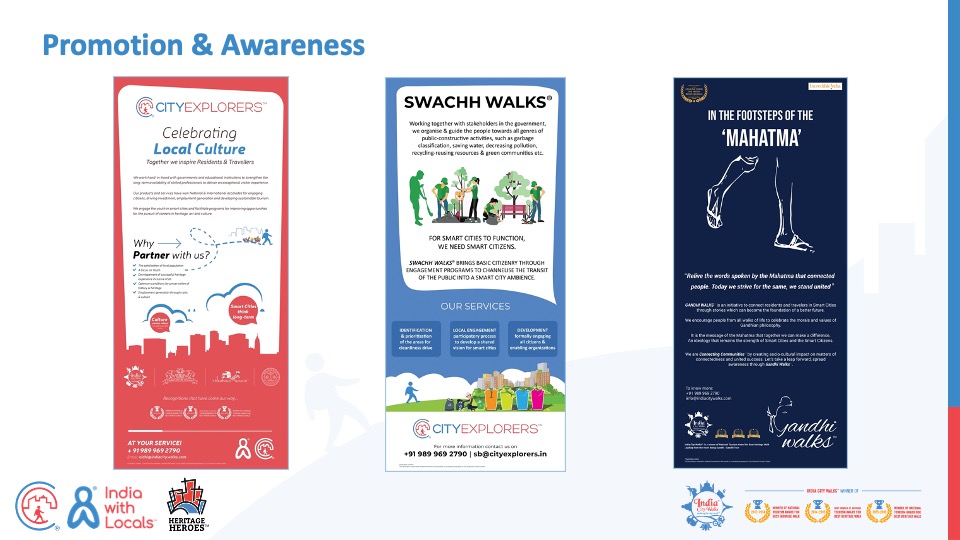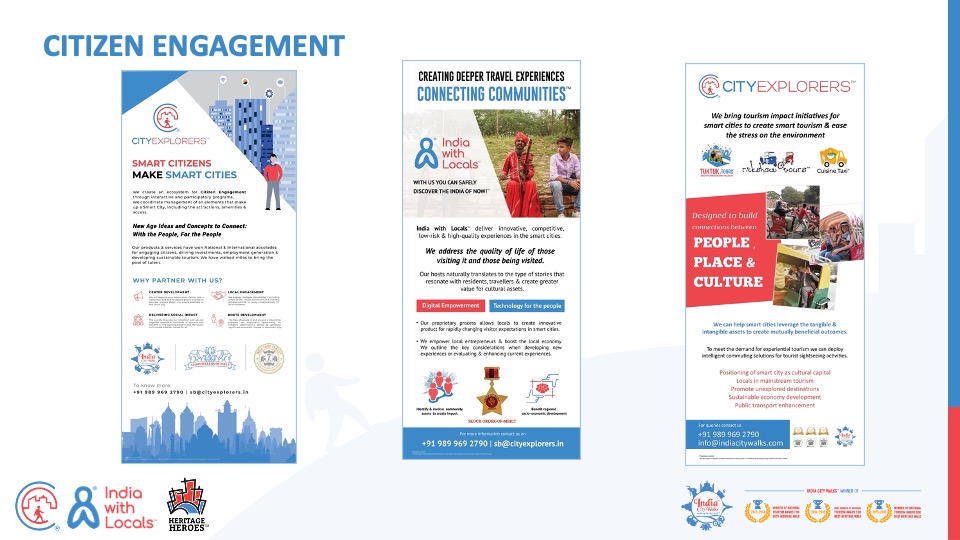 We function to inspire, assist and concentrate on experiencing the past in the present. The balance between spontaneity, freedom and self expression is achieved  through integrating: SKILL DEVELOPMENT, COMMUNITY ENGAGEMENT, RAISE AWARENESS & EMPLOYMENT GENERATION.

SKILL DEVELOPMENT: the tourism industry in our country needs 'Heritage Heroes™' and 'Heritage Enthusiasts™'. We create them at every stage, we train them for the globetrotters
RAISE AWARENESS: the power of tourism industry is best realised when every individual takes pride in their neighbourhood. Keeps a check on environment, sanitation. Our campaigns are created to promote the vision of HONOURING THE HERITAGE® & I LOVE HERITAGE® . We bring multiple environment concerns under one banner NO FOOTPRINTS BY CITY EXPLORER®.
COMMUNITY ENGAGEMENT: the nation is a melting pot and each community had its role to play, appreciating them of their legacy through engagements ensure safeguarding the endangering craftsmanship. MONUMENT FRIENDS® are the ones who hold the baton of these engagements to success.
EMPLOYMENT GENERATION: when each of the above box is ticked with right training and opportunity, it leads to employment generation – solving the biggest problem of all.
The tourism industry in India is growing and requires support of on-ground enablers at every step. We  ensure that this becomes a sustainable, stable ecosystem for the benefit of all. We believe in making a social impact and not disrupting any local life. Our endeavour is to make sure that all rungs of the tourism service sector serves in harmony. We contribute in enhancing the COUNTRY'S CAPACITY TO MANAGE HERITAGE resources. We encourage inclusivity, imaginative and durable social development programmes that would make a difference at the local level. Experiencing the tourism industry from bottom to top, we understand the implementation of the United Nations Sustainable Development Goals and India's policies around the same. With scalability across the nation, 'Connecting Communities' is an initiative directed towards all age-group and any income group.
It would be a happy space for our country when skills in tourism will ensure a medium of income for all. There are many nations thriving on tourism economy, and we address the mismatch in India's demand-supply, where tourism industry lacks a skilled talent pool, and youngsters cannot get jobs. With inclusive programs, diverse linguistic reach, we reach out to the wider population across the geographical barriers.

Dr. Sachin Bansal Founder of City Explorers Private Limited and having several flagships mentions, "Through sustainable tourism practices we enable scenarios in historical space and foster inclusivity and maintain diversity. We invest substantial resources to promote transformative travel with our host communities and create employment in diverse areas in which we operate". There are tons of places not yet explored and many others which are losing their value over time due to our negligence. We know that there are people out there who wish to raise their voices and want to protect and conserve the heritage and legacy our ancestors have left us with. We welcome all such devotees of history and heritage to participate in this process of preserving our rich heritage.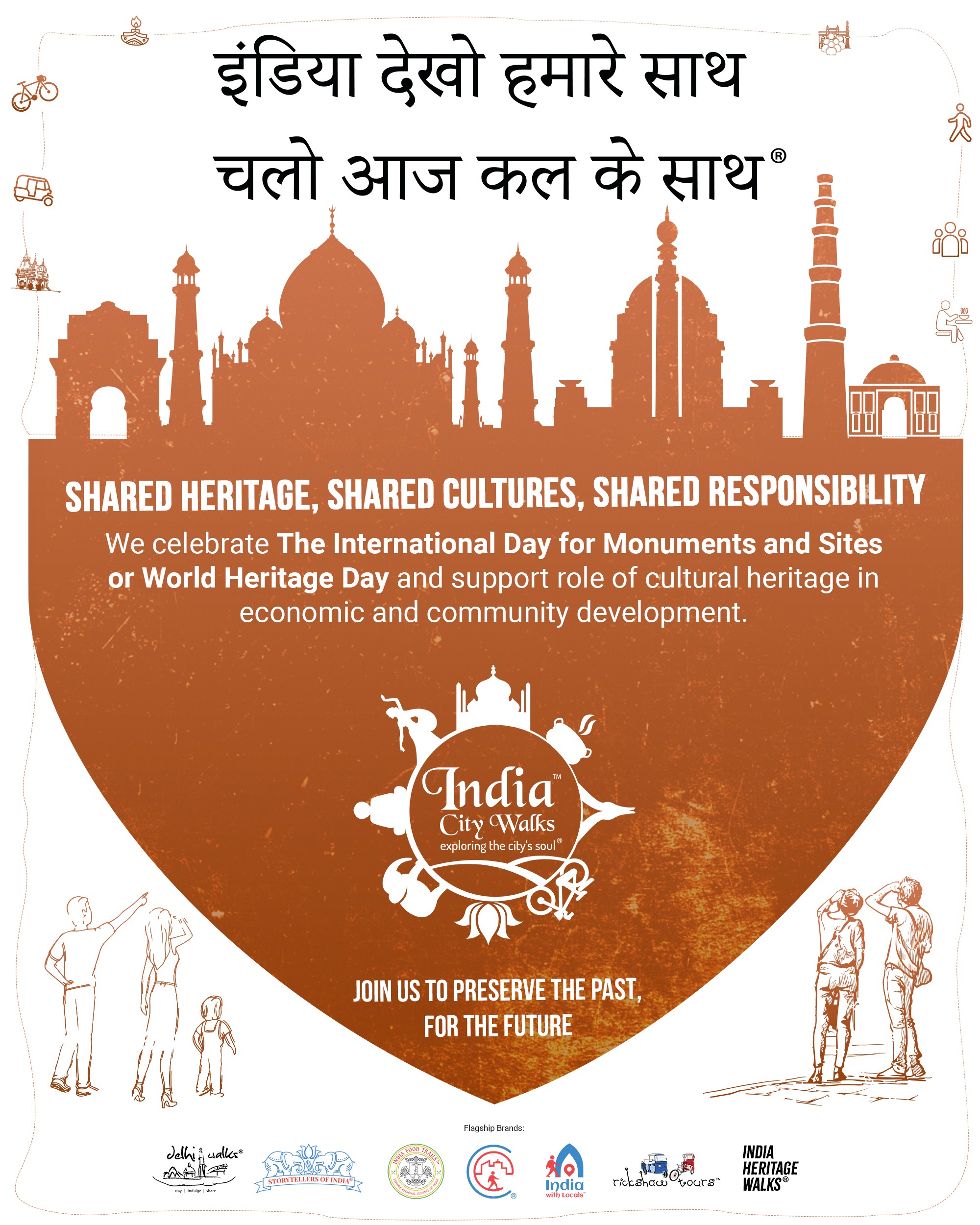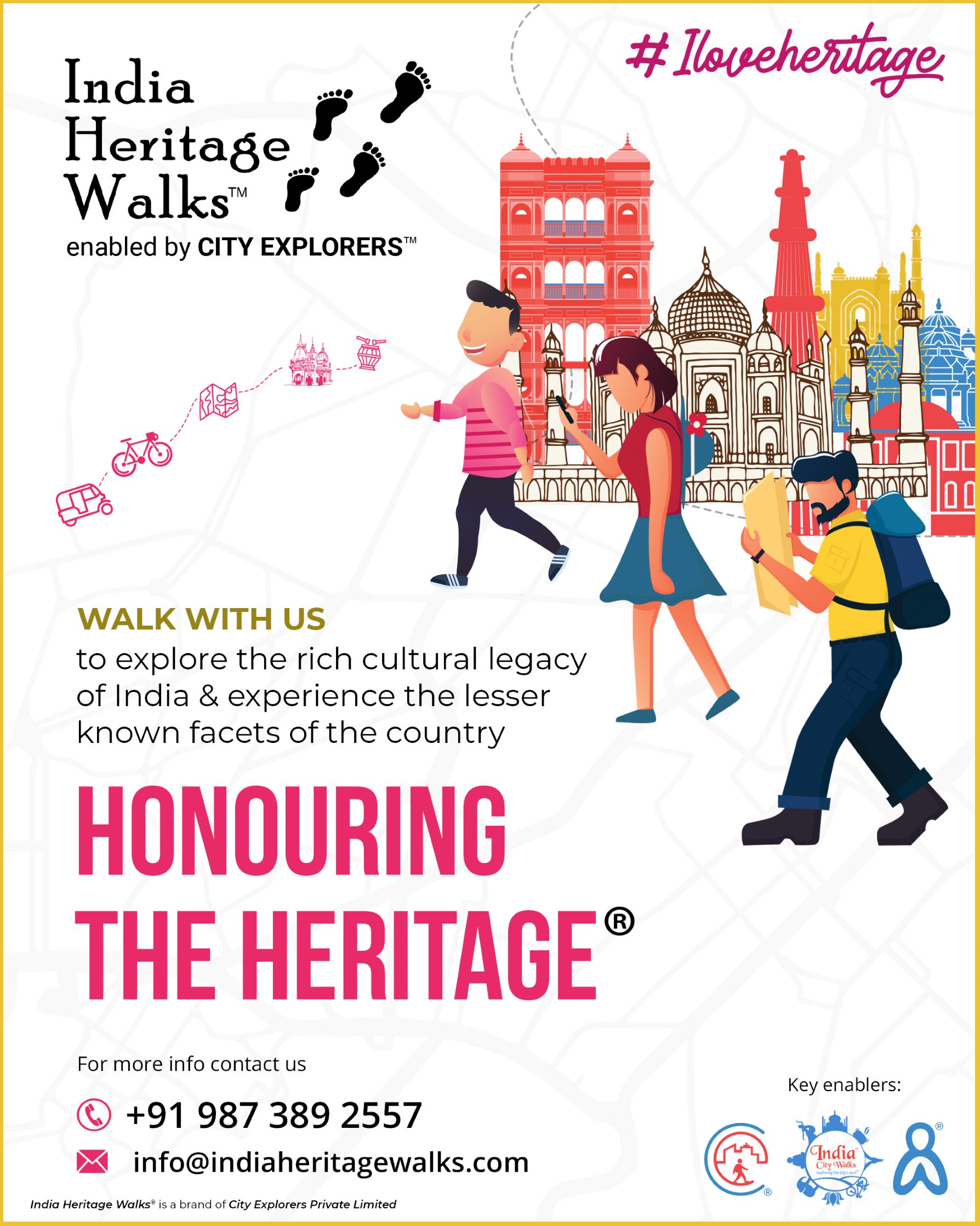 This is an opportunity for all to join hands with us to bring forth a momentum in their work towards the society.  We will support the projects related to tourism, enhancing activities of the rich cultural heritage through visual arts, gastronomy, oral traditions and expressions and, knowledge and practices in India
Be a part of a group of like minded people who see heritage and monuments, not just as history but as a legacy to cherish forever.
You can reach us to discuss your project on info@indiacitywalks.com  |  +91 989 969 2790