Water awareness campaigns and initiatives taken by our organisation, City Explorers Private Limited has been completely based on social and environmental impact. Under City Explorers we have several flagship brands promoting inclusive tourism such as India City Walks (ICW®), India Heritage Walks® (IHW®), India With Locals® (IWL®) work on several initiatives to promote Shared Heritage®. India City Walks (ICW®) is a three-time National Tourism Award winner & a Hall of Fame award winner from the Ministry of Tourism, Government of India. We are committed to showcase the Indian culture in the most authentic way. Heritage for us is an arena where the country, its citizens and the future generations will associate their identity and generate wider social and economic benefits from a repository of vast heritage sites. We believe in Slow Experiences® and Slow Journeys® to showcase past, upholding the values of Indian culture and preserve the same for the generations to come. In the process, we undertake all aspects of tangible and in-tangible heritage and our tourism services are delivered by teams designated as Culture Insider®, City Explorers®, City Mavericks®, Tourpreneur®.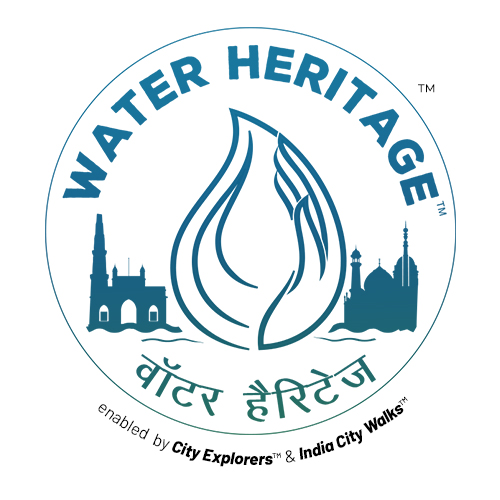 We have curated an all-inclusive strategy to discovering Water Heritage® activities across India. Our vision is all about Connecting Communities®, Experience Local by Locals™ where people could participate, engage, interact, act, and reciprocate towards the betterment of society, heritage and culture. The water awareness programs we operate are informative and thought provocative for all visitors. We disseminate education material on water awareness to garner maximum attention from all sections of the society. Our water awareness tourism itineraries promote Conscious Travel® & Jal Shakti. Our itineraries are interactive and include best practice of conserving/preserving water for the future generations.
Water and Heritage are the concepts which impact everybody and during India discovery we create engagement without exposure to intense visitor pressure and keep the environment better for exploration. The awareness on water and heritage is generated so that people understand the importance of water and its connection with industries, spiritual practices, heritage management and regional identity. We promote our exclusive tourism products The Living Legacies® and Walk With Tribe® to offer equitable and sustainable itineraries and showcase the human past integrating water utilisation scenarios. As producers of tourism products we give travellers exclusive itineraries on 'water' encouraged as an important component of tourism.
The essence of our India Heritage Walks® and India City Walks® involve socio-environmental initiatives which have rooted connections between history, culture, tradition and folklore. We dedicate ourselves in careful planning and extensive groundwork to make sure that you experience the way you imagine it to be. Our walks, tours and activities are designed to deepen the understanding of places and people and enhance local economies.

Our Water Heritage® itineraries are crafted based on travellers interest and are done consultation based mode and on request basis only. We assist in booking tickets, accommodation, secure rental transportation, and arrange for meals when requested. We have for years stimulated innovation in India tourism through Handpicked India®, Curated India® programs which includes experiences such as Virasat Yatra®, Heritage Hunt®, Stepwells of India and Honoring the Heritage®. Our range of water heritage discovery themes ensure everyone's direct benefit by being inclusive, optimistic and experiential. We actively support the 'new' ways of experiencing the historic and cultural spaces, ways that reflect the cultural immersion. As travellers become sensitive to local cultures and seek authentic experience we engage locals to deliver part of itinerary and get economic support. As promoters of Regenerative Travel® we provide tourism-oriented use of cultural heritage and align our flagships to operate in a supervised and controlled way 
that does not damage the historical environment.

We function to inspire, assist and concentrate on experiencing the past in the present. The balance between spontaneity, freedom and self expression is achieved  through integrating: SKILL DEVELOPMENT, COMMUNITY ENGAGEMENT, RAISE AWARENESS & EMPLOYMENT GENERATION.






We support the projects related to water, tourism, enhancing activities of the rich cultural heritage knowledge and responsible practices in India. We also co-create programs for institutes for responsible volunteer tourism, industries and private sector enterprises for corporate social responsibility purposes.
You can reach us to discuss your project on info@indiacitywalks.com  |  +91 989 969 2790