Explore the rich culinary heritage of India and embrace this mystic land by indulging in culinary activities
Food is what we are passionate about and we let you explore diverse cuisines integrated with culture and people. Our Gastronomy Tours, Cooking Lessons, Beverage Tasting & Food Market Visits are adapted to your interests. Local food and beverages are the main highlights of our culinary programs. These tours are based on multi-day, one-day and half-day experiences.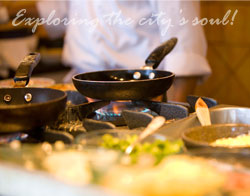 The distinct splendor of Indian cuisines are derived from the therapeutic and aesthetic use of spices, colours, aroma and taste – the quint-essentials of gourmet food. We combine our walks with stories and insights into the historic past from the beginning of the city to present times.
We will discover the secrets of Indian cooking by watching chefs as well as home cooks prepare tasty meals. So put on your apron and come along with us to witness some of the most amazing cooking classes.
During the culinary tours you can learn authentic recipes from local chefs, visit local food markets and taste some of the best street food. Explore the finest local cuisines and simultaneously experience the culture & landscape with India City Walks. We deliver special food programs and curate Eatinerary™ by deploying Culture Insider®, City Explorers® and City Mavericks® across regions in India
For more details you can reach us through email during weekends and holidays.
Connect with us at  nidhi@ indiacitywalks.com  |  +91 9899692790