India's heritage story can be best captured with our diverse heritage teams spread across east, west, north, south and central India. We offer new age traveler options to explore the country differently. Our brand India Heritage Walks® is enabled by City Explorers®(Pvt. Ltd.) which works in conjunction with India City Walks™. We enable the best delivery of thematic heritage experiences. India City Walks™ is a three-time National Tourism Award winner and a Hall of Fame award winner from the Ministry of Tourism, Government of India.
We Deliver Experiences® and are committed to showcase the Indian culture in the most authentic way. Heritage for us is an arena where the country, its citizens and the future generations will associate their identity, as a maker of a proud country with a repository of vast heritage sites. We believe in recreating the past, upholding the values of Indian culture and preserve the same for the generations to come. In the process, we undertake all aspects of tangible and in-tangible heritage arenas as our services and products, city-wise and pan-India.
India Heritage Walks® works in the genre which lets you immerse in heritage of a defined historic & cultural space, associated with people, events, or aspects of a community's past helps us in weaving a story. Our in-depth research meets the traveller's desire for an enriching experience delivered by Heritage Heores™. India is a diverse land, deep as an ocean bed, a land of colour, faith & festivities. To capture the essence of this diversity we curate thematic walks for you to experience the new cuisines, aromas fabrics, landscape, architecture, language & what not! The real experience with heritage especially through walks helps build memories.
The essence of our Heritage Walks is to create a rooted connection between history, culture, tradition and folklore. We dedicate ourselves in careful planning and extensive groundwork to make sure that you experience the way you imagine it to be. Our heritage walks are designed to deepen the understanding of places and people and enhance local economies. The walks are delivered by Walk Leaders®, Heritage Enthusiasts®, Kathakar®, Storywallah® and Purist®.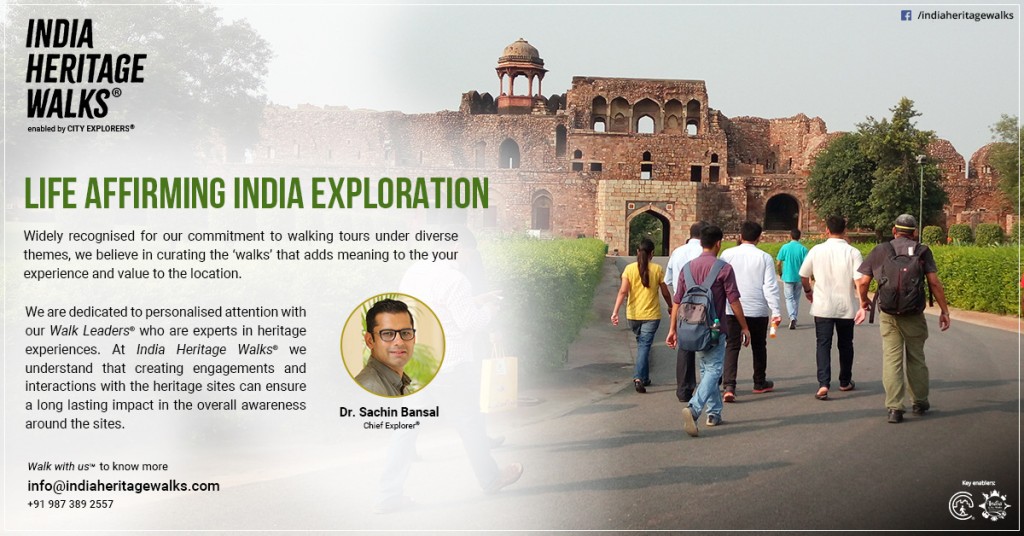 We have for years stimulated innovation in heritage tourism and experiences. A range of heritage themes, ensuring the future of local experiences for everyone's direct benefit. Together as a community we must make every effort to protect our common future in cultural heritage. We actively support the 'new' ways of experiencing the historic and cultural spaces, ways that reflect the cultural immersion.
As travellers become sensitive to local cultures and seek authentic experiences we enable heritage exploration for them through locals designated as Heritage Walk Leader® and provide economic support to the local community. As promoters of responsible and sustainable tourism, preserving a community's cultural heritage has been among the responsibilities of India Heritage Walks® & India City Walks™ and we shall continue to do so.
We offer a range of fantastic heritage walking tours in India, allowing you to experience these cities up close and explore the different cultures and exotic environments.
Feel free to contact us in order to find out which walk suits you the best. You can reach us through email during weekends and holidays.
Connect with us to know more about our flagship India Heritage Walks® at nidhi@indiacitywalks.com  |  +91 989 969 2790