We create impact by collaborating with institutions to facilitate certificate course for experiential delivery of heritage walks in India. Our course work is both virtual and on-ground and is passionately designed as an impact arm of our organisation, CITY EXPLORERS®PRIVATE LIMITED brings sustainable, responsible efforts within the experiential tourism value chain.
India City Walks aims to help everyone explore the story of India.
We enable the best delivery of thematic heritage experiences. India City Walks™ is a three-time National Tourism Award winner and a Hall of Fame award winner from the Ministry of Tourism, Government of India. We are committed to showcase the Indian culture in the most authentic way. Heritage for us is an arena where the country, its citizens and the future generations will associate their identity, as a maker of a proud country with a repository of vast heritage sites. We believe in recreating the past, upholding the values of Indian culture and preserve the same for the generations to come. In the process, we undertake all aspects of tangible and in-tangible heritage arenas by deploying Culture Insider®, City Explorers®, City Mavericks ® city-wise and pan-India.
The unprecedented times have pushed the world wide education system into complete digital and online platform. In times where students were encouraged for on-the-job training or internship, they are subjected to be at home. We at India City Walks®, wish to bring an interactive engagement in this scenario. With our vast experience in the industry and training students we have created would online course & one month certificate program for people who wish to expand their understanding in heritage and tourism. Over the years India City Walks has achieved milestones and has created a fleet of best tourism flagbearers, we have designed courses for multiple universities and conducted multiple skill development/trainings/orientation for Universities/Government & Private agencies.
Below are mailers of our successfully run course with Kurukshetra University. The course was delivered successfully twice with two new batches.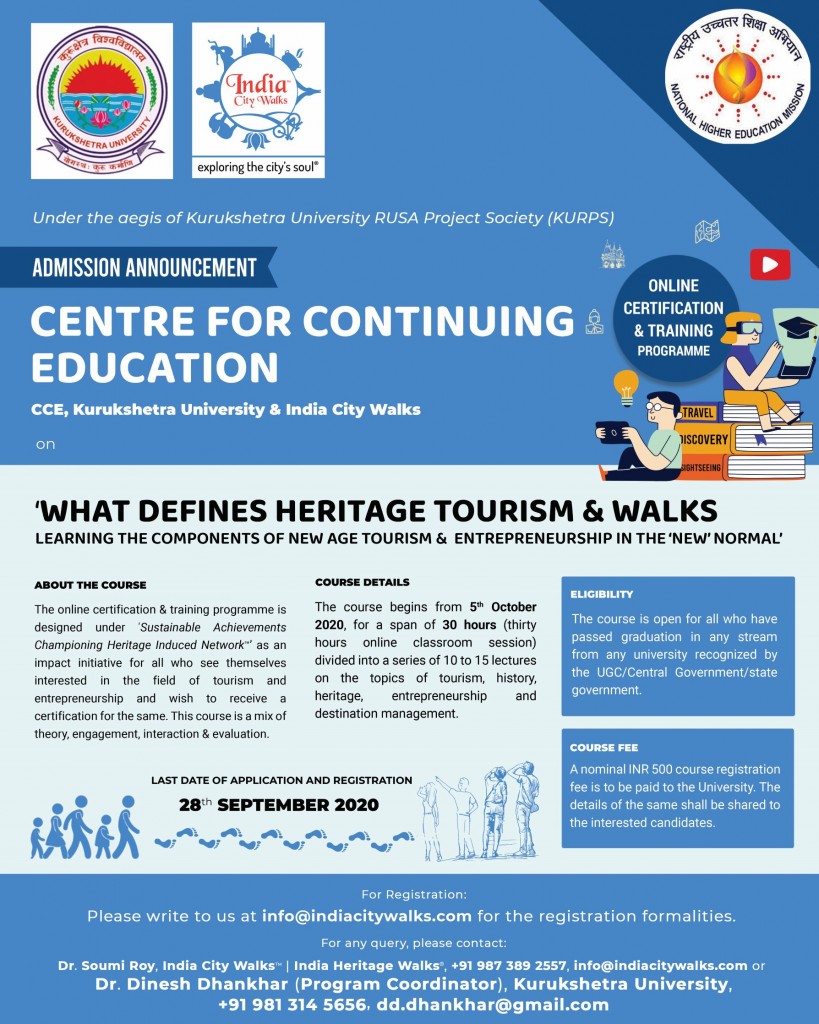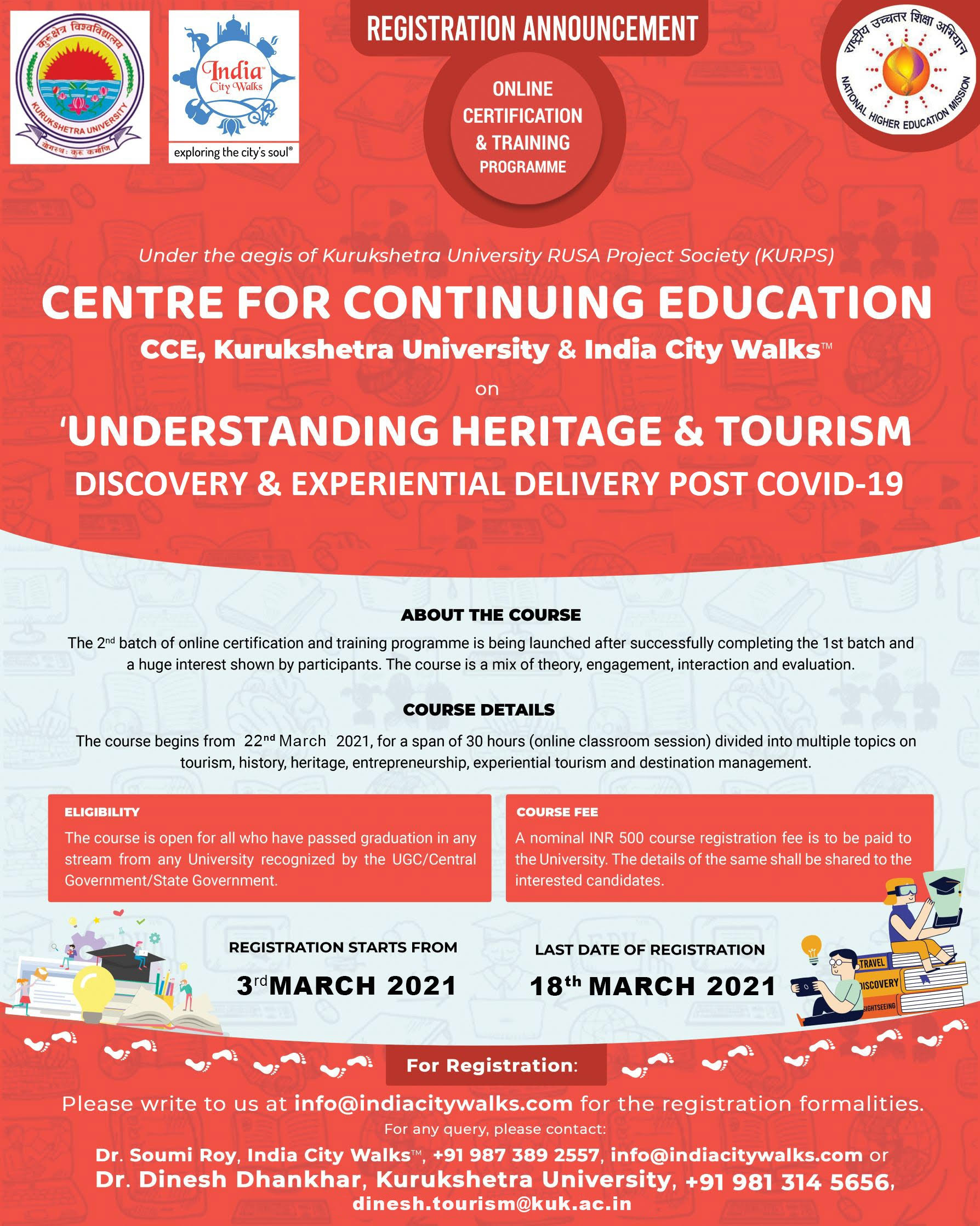 The online course is targeted to make the students adept on heritage tourism, heritage walks, niche tourism and overall brand management in entrepreneurial ventures of tourism (with many other sub-offerings). The online course would be designed exclusively for your university & department. A detailed proposal could be shared based on our understanding.
Together as a community we must make every effort to protect our common future in cultural heritage. We actively support the 'new' ways of experiencing the historic and cultural spaces, ways that reflect the cultural immersion.
India City Walks (ICW®) function to inspire, assist and concentrate on experiencing the past in the present. The balance between spontaneity, freedom and self expression is achieved  through integrating: SKILL DEVELOPMENT, COMMUNITY ENGAGEMENT, RAISE AWARENESS & EMPLOYMENT GENERATION.

This is an opportunity for locals to learn the tourism delivery and enhance tourism activities to promote and show heritage of India. Be a part of tribe of WALK LEADERS®, HERITAGE ENTHUSIASTS®, KATHAKAR®,CITY EXPLORERS® who see heritage and monuments, not just as history but as a legacy to cherish forever.
As travelers become sensitive to local cultures and seek authentic experiences – they provide economic support to the local community. As promoters of responsible and sustainable tourism, preserving a community's cultural heritage has been among the responsibilities of India City Walks and we shall continue to do so.
You can reach us to discuss your education project or to know more on info@indiacitywalks.com  |  +91 989 969 2790