We create impact by collaborating with institutions to facilitate certificate course for experiential delivery of heritage walks in India. Our course work is both virtual and on-ground and is passionately designed as an impact arm of our organisation, CITY EXPLORERS PRIVATE LIMITED brings sustainable, responsible efforts within the experiential tourism value chain.
CENTRE FOR CONTINUING EDUCATION (CCE, Kurukshetra University)
& INDIA CITY WALKS (ICW®, IHW®, CEPL®)
 On
UNDERSTANDING HERITAGE & TOURISM: DISCOVERY & EXPERIENTIAL DELIVERY POST COVID19
About the Course: The 2nd batch of online certification and training programme is being launched after successfully completing the 1st batch and a huge interest shown by participants. The course is a mix of theory, engagement, interaction and evaluation.
Course Details: The course begins from 22ND MARCH 2021, for a span of 30 hours (online classroom session) divided into multiple topics on tourism, history, heritage, entrepreneurship, experiential tourism and destination management.
Course Fee: A nominal INR 500 course registration fee is to be paid to the University. The details of the same shall be shared to the interested candidates.
Eligibility: The course is open for all who have passed graduation in any stream from any University recognized by the UGC/Central Government/State Government.
REGISTRATION STARTS FROM : 3 MARCH 2021
LAST DATE OF REGISTRATION: 18 MARCH 2021
For Registration: Please write to us at info@indiacitywalks.com for the registration formalities.
 For any query, please contact: Dr. Soumi Roy, India City Walks, 9873892557, info@indiacitywalks.com or Dr. Dinesh Dhankhar, Kurukshetra University, 9813145656, dinesh.tourism@kuk.ac.in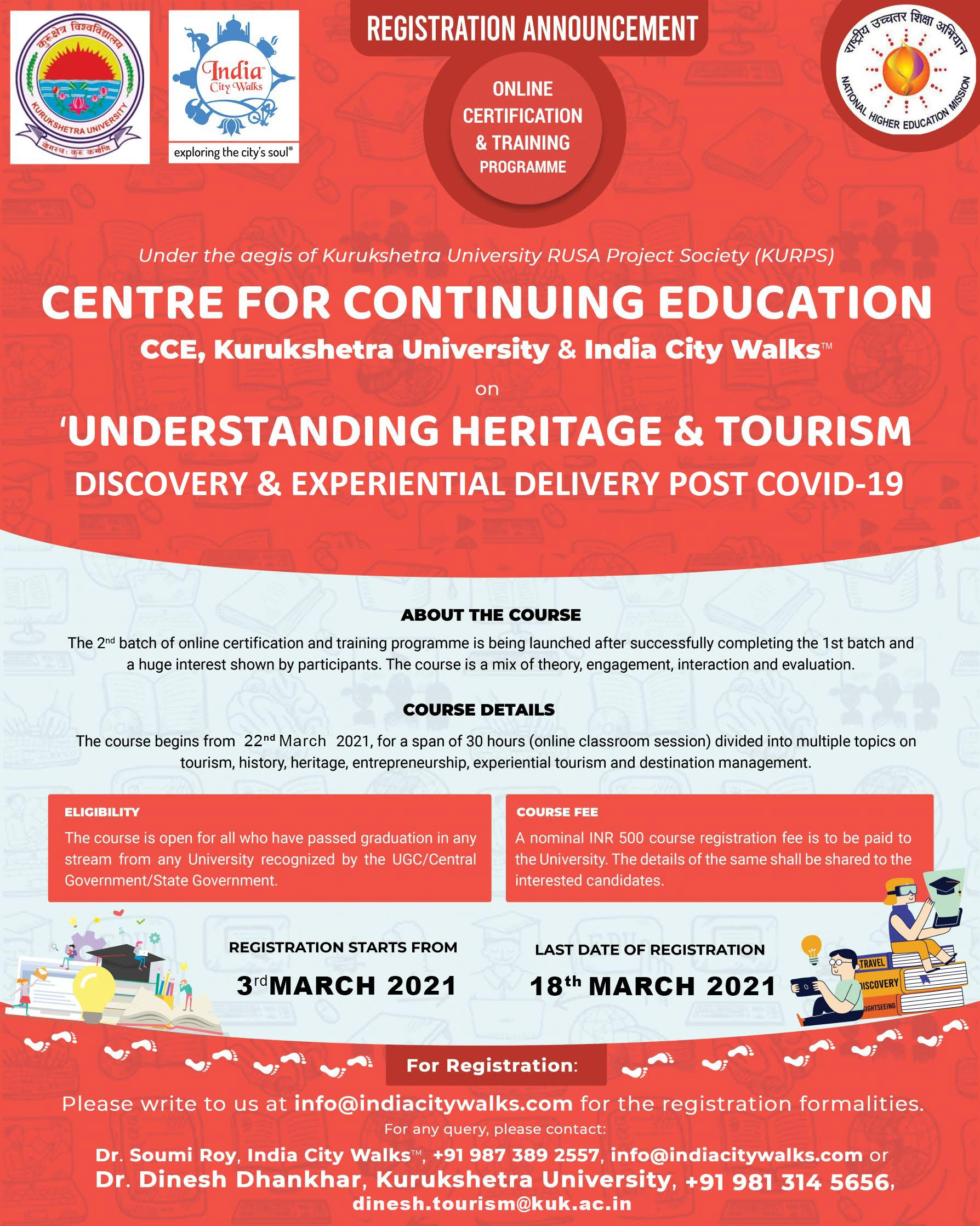 ********
India City Walks (ICW®) function to inspire, assist and concentrate on experiencing the past in the present. The balance between spontaneity, freedom and self expression is achieved  through integrating: SKILL DEVELOPMENT, COMMUNITY ENGAGEMENT, RAISE AWARENESS & EMPLOYMENT GENERATION.

This is an opportunity for locals to learn the tourism delivery and enhance tourism activities to promote and show heritage of India. Be a part of tribe of WALK LEADERS®, HERITAGE ENTHUSIASTS®, KATHAKAR®,CITY EXPLORERS® who see heritage and monuments, not just as history but as a legacy to cherish forever.
Our incubator program  'SUSTAINABLE ACHIEVEMENTS CHAMPIONING HERITAGE INDUCED NETWORK™'  is introduced under our parent company CITY EXPLORERS PVT LTD in conjunction with several flagships to offer travel led cultural heritage opportunities spread across India. The selection of the candidates will be done based on prerequisites defined by us.
You can reach us to know more on info@indiacitywalks.com  |  +91 989 969 2790