SHARE YOUR EXPERIENCE WITH THE WORLD
The objective and aim of creating a web presence such as this is to provide a platform for everyone to express what they truly feel about their cities.
The whole concept revolves around the idea of  STAY, INDULGE AND SHARE.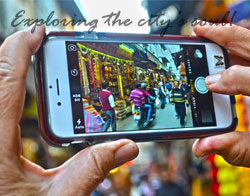 A tourist visiting the enchanting cities can also be exposed to the camaraderie that exists among the local people – often sadly not experienced by most visitors. A daily glance at our website will offer an insight to the pulse of the city. People like you and us can fall in love with our city all over again. The only effort required on your part is to share your experiences with us.
Your uploaded videos, photos, blogs, texts and participation in walks, campaigns and contests are the 'stuff' enjoyable action is made of.
If you are a true traveller, come and join us in our efforts to show your incredible city – OVER TO YOU!
SHARE YOUR EXPERIENCES HERE
We Deliver Experiences® for residents and travellers across India. Connect with us through email nidhi@indiacitywalks.com or give us a call +91 989 969 2790