India is where people live with variety, thrive on diversity 
We Deliver Experiences® for residents and travellers across India. Our focus is on encouraging both young and old to experience the heritage of India.Our nation has a new story to share at each step, an ancient tradition to relive at every nook and cranny, a medieval structure to upkeep at every turn of the road and a modern interpretation to listen at the end of the road.
The India City Walks Festival™, edition 4, has been brought in for all tourism, heritage, and culture enthusiasts after a roaring success of the third edition of the Festival. This is a cultural festival where the focus is on heritage, monuments, history, tradition and city sightseeing destinations for walks, storytelling sessions, events, and experiences both on-ground and virtually. The ICWF™ is designed for the locals, the residents, and is in line with 'Vocal for Local' and 'AtmaNirbhar Bharat' mission of Hon'ble Prime Minister.
In past, the 3rd edition of 'India City Walks Festival™' (ICWF™), with the support of Incredible India, Ministry of Tourism and United Nations World Tourism Organization (UNWTO) was successfully conducted across 19 states & UTs covering 50 cities through on-ground as well as virtual events and completed in March 2021. ICWF™ has been a success and raised awareness of India's cultural heritage with an attempt to make it fully accessible for residents and travelers. The fourth edition of the ICWF will meet the motto of revival of domestic tourism, bring sustainability, employability and enhance tourism growth. Also, our endeavour is to create awareness on living traditions, capacity building and deliver resilience of the culture, heritage to enhance tourism sector.
Our objective is to create a pool of locals and ensuring opportunities/employment for citizen engagements around heritage & culture. We have followed 'Vasudhaiva Kutumbakam' an ancient saying literally translated into 'the world is one family' for our experiences and the celebration of India's cultural heritage. The Festival is stronghold with our flagship brands such as India City Walks™, India Heritage Walks®, India With Locals®, Storytellers of India® that are an extension to the host communities.
We want heritage to be more widely recognised as a vital contributor to the economy, social cohesion, better places and individual wellbeing. Encourage safer ways of exploring tourism destinations in the post covid19 scenario. We believe that the community success comes through sustenance and self-dependence. Our years of working in the field of tourism have ensured various innovative mechanisms to sustain and prosper in the competitive world.
Our intent is to bring the host communities and culture together for the globetrotter to experience India through entire spectrum of heritage tourism. We form an ecosystem where people could participate, engage, interact, act and reciprocate. Dr. Sachin Bansal is a tourism entrepreneur and leads multiple award-winning experiential travel brands. Inspired by his passion for India and its cultural hues, his vision connects residents and travellers to their cultural roots. He has worked extensively to connect travelers to the local communities by taking pride in its lineage. Backed by over 20+ years of global experience, he has other engagements specifically to enhance cultural mobility opportunities in India. He has worked relentlessly over the years to contribute to the society and in-particular to the tourism industry. By adhering to the norms of social distancing and yet bringing the best experiences together for the travellers is our focus. The idea is to create an opportunity for the locals and for others to immerse in the unexplored arenas with the locals.
To support the locals and provide the right intervention, we have the host joining options for the interested candidates. They can fill the form provided in the link and be a part of the India City Walks Festival® Fourth edition
Web Link – https://cutt.ly/submit-entry
From Chief Revivalist®-Sachin Bansal – This is a festival to celebrate tourism, tradition, heritage, history & culture, an endeavour to mark the homogeneity of our citizens, to acknowledge the heterogeneity of our beliefs and to celebrate what makes us 'INDIAN'
"We are on a mission to bring a positive and a lasting change by inspiring, leading and organizing socially and culturally impactful thematic walks and city tours across India and showcase the character of a place comprising its built environment, cultural heritage, historical and contemporary facets. We draw upon history, archaeology, art history, food history, rural and urban planning, and environmental science to make it a scalable and sustainable process.
The 'India City Walks Festival™' (ICWF™), creates community impact by ensuring responsible and sustainable tourism along all chain of the experience. We have curated tours and experiences that nurture the local traditions and local tourism.'India City Walks Festival™' (ICWF™),  is a pan-India initiative in form of a festival ensuring employment for the locals also bringing awareness about our rich cultural heritage amongst the people. We have devised a mechanism by which the locals are provided the much-needed skill to preserve and promote their own destinations.Incase you desire more information on 'India City Walks Festival™' (ICWF™) to participate, exhibit or lead an event then, please write to us on indiacitywalksfestival@gmail.com.
UPCOMING CULTURAL HERITAGE EXPERIENCES & WALKS – ICWF™
7thNOVEMBER, 2021
8thNOVEMBER, 2021
10thNOVEMBER, 2021
14thNOVEMBER, 2021
Safarnama-i-Alija – Heritage Walk in Gwalior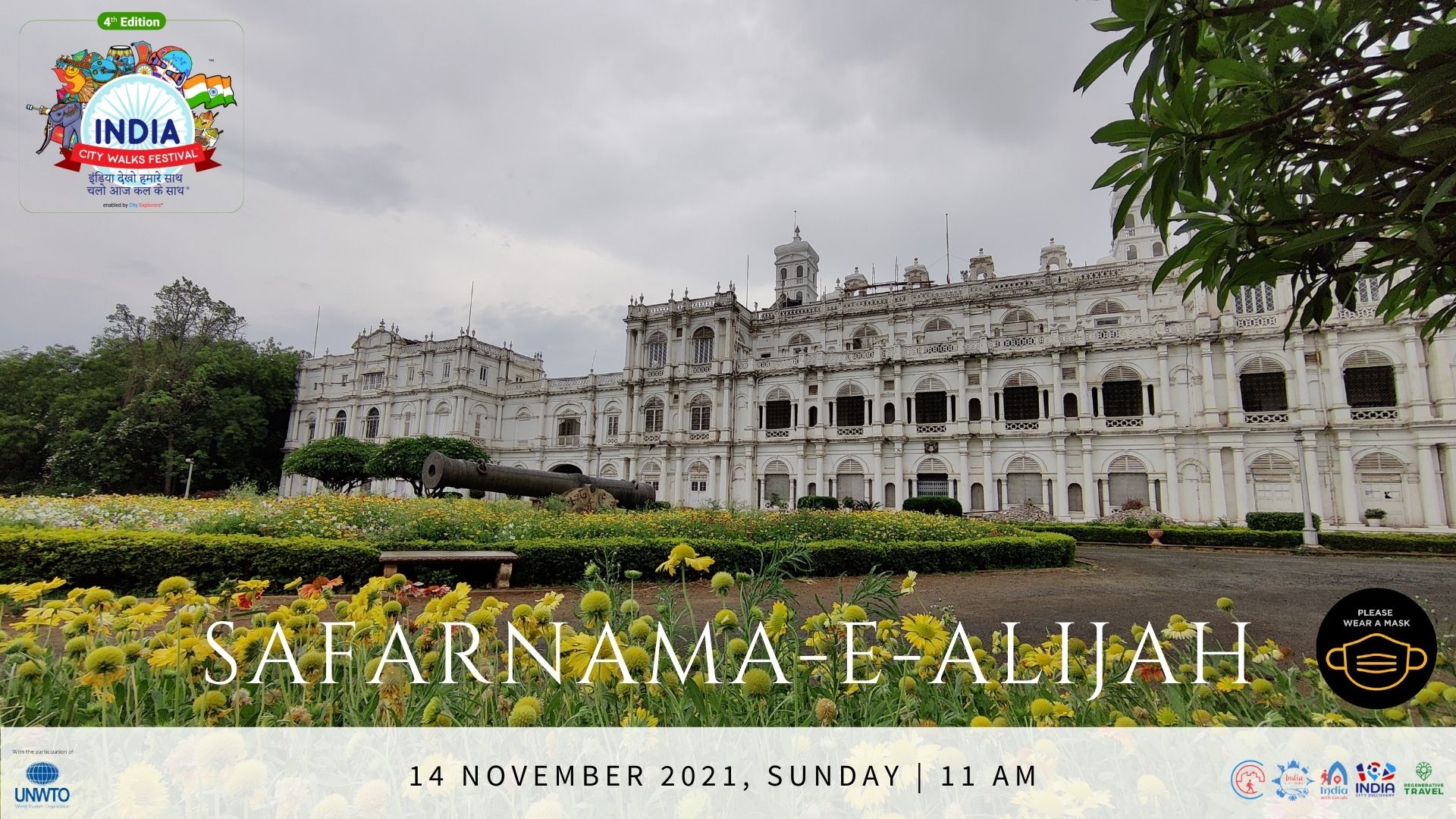 Heritage Walk in Gwalior- Tansen and his Sufi Master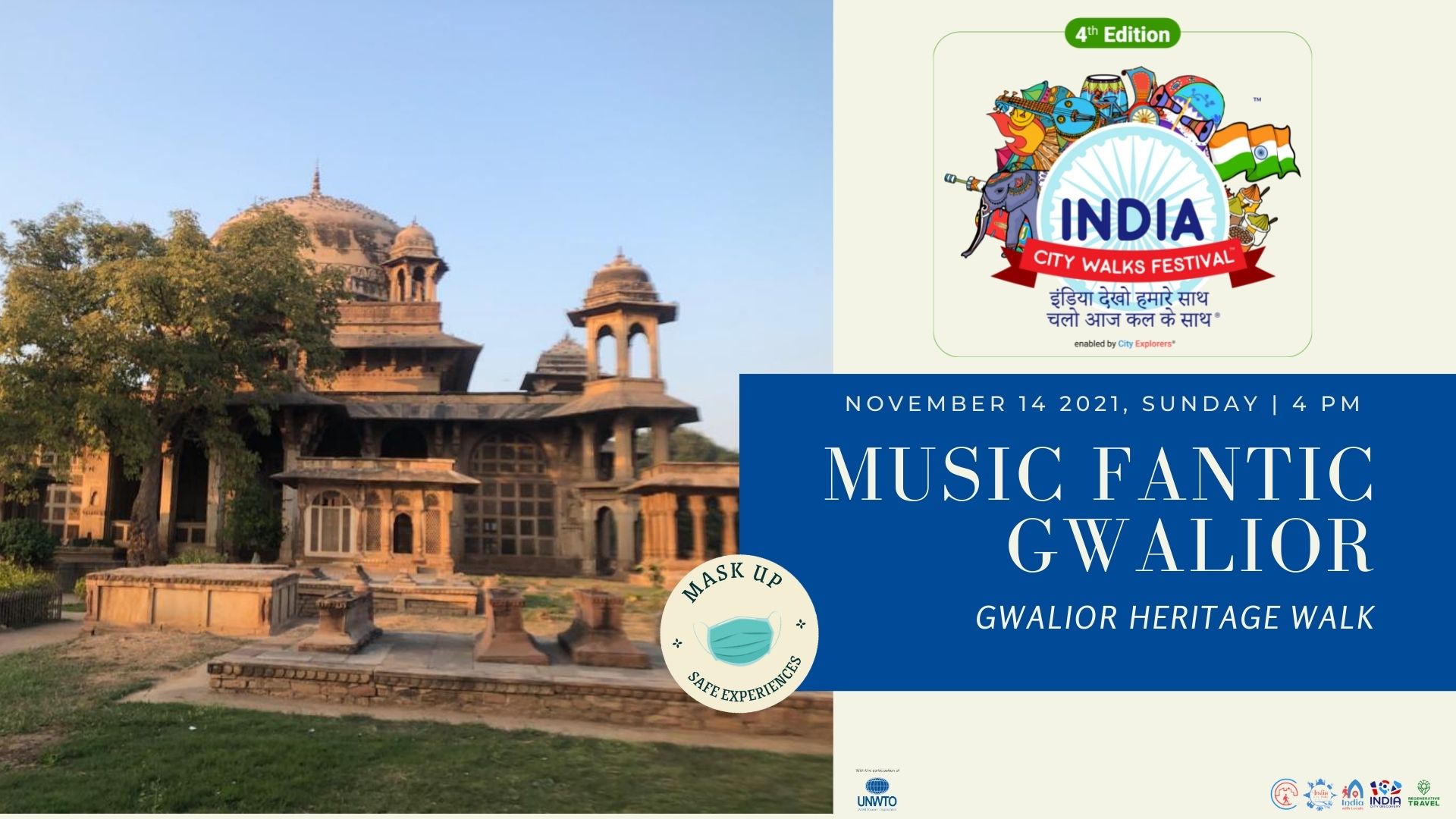 MORE COMING SOON…