Water awareness campaigns and initiatives taken by our organisation, City Explorers Private Limited has been completely based on social and environmental impact. Under City Explorers we have several flagship brands like India City Walks, India Heritage Walks, India With Locals and we work on several initiatives. India City Walks is a three-time National Tourism Award winner & a Hall of Fame award winner from the Ministry of Tourism, Government of India. We are committed to showcase the Indian culture in the most authentic way. Heritage for us is an arena where the country, its citizens and the future generations will associate their identity, as a maker of a proud country with a repository of vast heritage sites. We believe in recreating the past, upholding the values of Indian culture and preserve the same for the generations to come. In the process, we undertake all aspects of tangible and in-tangible heritage arenas as our services and products, city-wise and pan-India.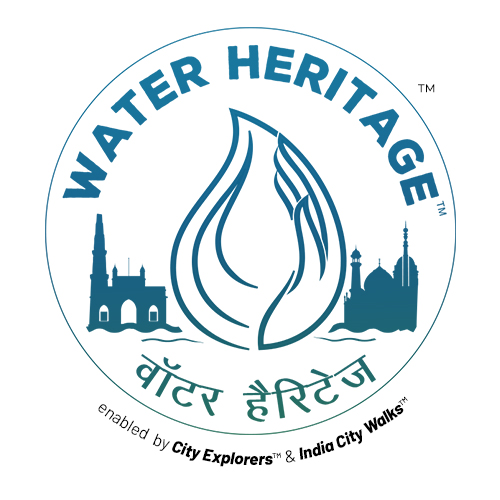 We have devised an all-inclusive strategy, connect & make an ecosystem where people could participate, engage, interact, act, and reciprocate towards the betterment of their society, heritage and culture. Many feel 'heritage' or 'cultural heritage' should not be a concern.  The water awareness programs run under Water Heritage are educative, informative and thought provocative for all. We have generated educative material on water awareness to garner the maximum attention from all sections of the society. Our water awareness programs come under a unique initiative of bringing Water and Heritage together for Jal Shakti. The idea is to make the concept relatable to all, so that this initiative is a success. We have kept our initiative interactive based and something that people find more connected to. We are in the phase of ascertaining the best practice of conserving/preserving water for the future generations to come and the present along.
Water and Heritage are the concepts with an impact for all, here we bring the awareness to an optimum level, where people understand the importance of both water and its connection to our heritage and identity in the long run. The idea is to make the community come out of their zones to help preserve the future. The above initiative equips us to make sure that the unique experiences, exclusivity and a sense of comfort as well are delivered on our tours with a sense of awareness and positive impact.
The essence of our Heritage Walks and socio-environmental initiatives are rooted connections between history, culture, tradition and folklore. We dedicate ourselves in careful planning and extensive groundwork to make sure that you experience the way you imagine it to be. Our heritage walks are designed to deepen the understanding of places and people and enhance local economies.

We have for years stimulated innovation in heritage tourism and experiences. A range of heritage themes, ensuring the future of local experiences for everyone's direct benefit. Together as a community we must make every effort to protect our common future in cultural heritage. We actively support the 'new' ways of experiencing the historic and cultural spaces, ways that reflect the cultural immersion. As travellers become sensitive to local cultures and seek authentic experiences – they provide economic support to the local community. As promoters of responsible and sustainable tourism, preserving a community's cultural heritage has been among the responsibilities of India Heritage Walks & India City Walks and we shall continue to do so.

We function to inspire, assist and concentrate on experiencing the past in the present. The balance between spontaneity, freedom and self expression is achieved  through integrating: SKILL DEVELOPMENT, COMMUNITY ENGAGEMENT, RAISE AWARENESS & EMPLOYMENT GENERATION.






We support the projects related to water, tourism, enhancing activities of the rich cultural heritage knowledge and responsible practices in India
You can reach us to discuss your project on info@indiacitywalks.com  |  +91 989 969 2790