City Explorers Private Limited (CEPL®) offers an innovative model for maximising the economic impact of cultural tourism in urban, rural and peripheral neighbourhoods. With best of socio-environmental-cultural themes to experience, we partner with tourism, hospitality, and local businesses to ensure a stronger chain of sustenance for all. We nurture entrepreneurship & intrapreneurial ventures in tourism for employment generation and skill gap mitigation. The commercial focus is in attracting visitors (leisure and business). We extend integration expertise to hotels, resorts, entertainment areas, visitor attractions and real estate projects.
CEPL® has an impactful and sustainable portfolio of initiatives bringing value through citizen engagement, storytelling activities delivered by flagships and brands. Our brands are dedicated completely to experiential tourism, events, hospitality services and our services, products, wordmarks are envisioned for deep city explorations in conjunction with three time National award winning brand and Hall of Fame winner India City Walks™. Our brand story  is all about neighbourhood engagement initiatives. We work with communities to map cultural assets and ensure a pan-India employment opportunity.
We have concentrated on the socio-cultural dynamics and our brand engage people to the roots from the past. The intent has been to contribute in our  economy through facets of tourism. Also, we have offered opportunities to locals to be a part of our communities in capacity of Walk Leaders®, Kathakar® & City Champion®. The portfolio has ben created having a belief that Indian culture is at the heart of liveable diversity and strong urban economy. We have several trademarks in tourism related services to foster inclusivity and diversity. Our commercial initiatives bring host communities and culture together for the globetrotter to experience India. Our experiential products are segmented within people, process and technology.
Our brands represent mobility, hospitality, events, tourism, technology, archival services, research, consulting and many other sectors.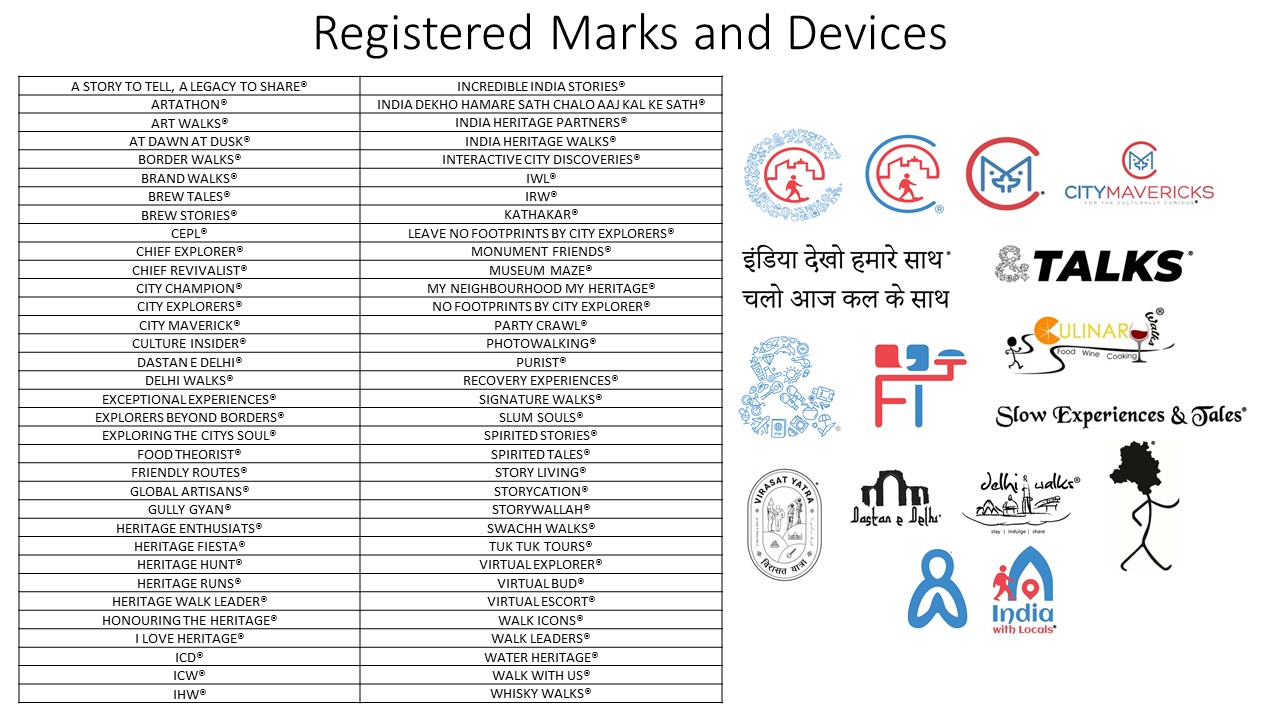 These word marks, trademarks, graphic representations are being used extensively by City Explorers Private Limited in all major jurisdictions in India. Be it known to all that stern legal actions will be taken against any person, firm or company found involved in using City Explorers Private Limited marks, associated IP, or illegally claiming to be associated with City Explorers Private Limited (CEPL)  in any manner whatsoever, under all applicable civil and criminal laws, solely at the risk of such person as to cost and consequences.
 Should you wish to know more about our portfolio brands please schedule an appointment with us help@cityexplorers.in  |  +91 729 197 2713