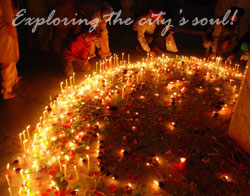 The festivals in India are not just days of enjoyment or celebration but they speak of the rich and diverse culture of the country. What better place than Delhi, the capital city to celebrate, enjoy and understand this vibrant Indian culture.
There are umpteen number of festivals celebrated all round the year, and no wonder the country is often known as the "Land of Festivals".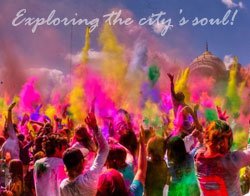 Experience these Indian festivals with us. Enjoy the local delicacies and the best of India. Our intriguing Festival Tours will make you witness some of the most popular and important festivals of the country celebrated in Delhi with a never ending enthusiasm, prayers and rituals.
Celebrate festivals like Onam, Holi – the festival of colours, Durga Puja, Deepawali – the festival of lights which symbolizes the triumph of light over darkness, Id, Baisakhi and Christmas in a Delhite way and get a chance to be a part of these celebrations and merriment.
Each and every religion has something to celebrate and enjoy and has its own flavor with a meaningful identity
The Festive Tours of India City Walks lets you be a part of these events combined with an incredible diversity of walks and tours. With each festive tour we don't just travel but also promote the cultural integrity of each festival, and offer you the best of every city. Get the most and marvellous of festive experiences in India with us.
Connect with us through email nidhi(at)indiacitywalks.com or give us a call +91 989 969 2790