Celebrating World Heritage Day and Successful completion of India City Walks FestivalTM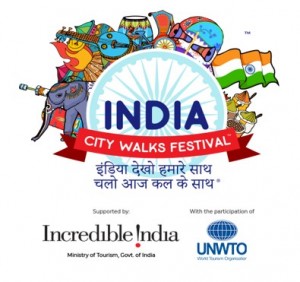 "UNESCO established 18 April as the International Day for Monuments and Sites in 1983. It aims to raise public awareness about the diversity and vulnerability of the world's built monuments and heritage sites and the efforts required to protect and conserve them."
On this day we are introducing the contest to mark World Heritage Day & Completion of India City Walks Festival™ 2021 by announcing exciting Give-aways from our brand portfolio. The contest is conceived to engage people from different walks of life, who love to showcase their heritage, culture and tradition. The World Heritage Day is round the corner and like always we would love to celebrate it. Keeping the on-ground realities in mind, this year the celebration would be on a virtual mode! With World Heritage Day we are also celebrating the successful completion of our initiative on domestic tourism revival -India City Walks Festival™. We are also pleased to introduce our three-time national-award winning brand India City Walks under which we create tourism offerings to interpret heritage & bringing value through citizen engagement alongside, other flagships of City Explorers Pvt Ltd (parent organisation). It has been our pride to receive the coveted National Tourism Award for three consecutive years followed by the Hall of Fame award from Government of India.
CONTEST & GIVEAWAY DETAILS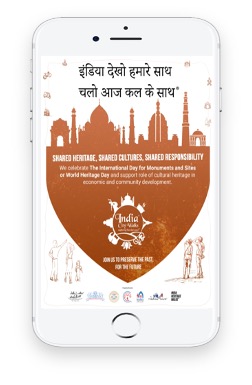 Concept: The webinar is directed to bring an interdisciplinary approach within the subjects of History, Heritage Management, Environment, Nature Awareness and Tourism.
Giving away merchandises like power-banks, caps and masks to mark World Heritage Day and celebrating our successful engagements with the Locals from across during the India City Walks Festival™. All those who believe in appreciating heritage and culture are welcome to follow the following steps to participate in the contest, Selected Winners will be sent the giveaways!
INSTRUCTIONS
1. Like and follow our page on Facebook & Instagram – indiacitywalksfestival
2. Create a new post with a photo clicked by you of your favorite heritage.
3. The photo could be of any theme like monument, food, art, architecture, textile and much more!
4. Reshare this post
5. Tag us (indiacitywalksfestival) along with another 3 friends, who can then post their stories too!
6. Use the hashtag #icwfworldheritage
In these unprecedented times, let us come together to revive tourism in the safest way possible. Our vision at City Explorers Private Limited (CEPL®) is to facilitate experiences delivery and promote better understanding of India's cultural identity through tourism offerings. India City Walks Festival™ facilitates local experiences for India discovery and promote better understanding of India's cultural identity through tourism offerings.
Contest Timelines: 17th April 2021 till 7th May 2021
Winners will be announced on 10th May 2021
There is no participation fees or any kind of financial involvement to apply in the contest.
For more information, you can reach us on at +91 987 389 2557 email can be sent on info@indiacitywalks.com
TERMS & CONDITIONS
1.This contest is free for all and anyone and everyone can enter
2.The contest is for everyone above the age 15 years and is on pan-India basis
3.Each participant can post one picture to enter into the giveaway contest
4.The picture should be clicked by you only.
5.Any third-party images will be disqualified.
6.The giveaways will be given on the basis of creativity and unique interpretation of Heritage
7.No entries will be accepted post 7th May 2021. The rights to revise the dates shall be reserved by India City Walks Festival™
8.The winners will be announced on our social media handles on 10th May 2021
9.Only selected participants will be given these giveaways
10.All the pictures posted as a part of the contest will be promoted by and on different social media platforms
11.The winners will get caps, masks, jackets and much more.
12.By participating, the Contestant ("You") agree to be fully & unconditionally bound by the rules and regulations of CEPL®, and you represent and warrant that you meet the eligibility requirements. In addition, you agree to accept the decisions of the company as final and binding as it relates to the content of this campaign.