Who we are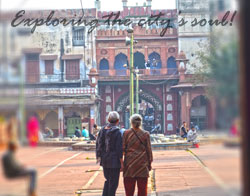 India City Walks, the ultimate in slow travel, means viewing each destination up front on foot. With us, you can literally walk away from the noisy highways of motorized travel and escape to a greener, fresher, more natural path. Nothing beats the simple rhythm of gentle walking and good fellowship in beautiful places. Time and time again we have seen our guests relax, unwind and enjoy the easy fellowship of the trail. Our aim is to give you the best walking vacation ever.
Our wonderful itineraries are unique and we develop all of our own trips personally and update them every year. Even in well-visited areas, we offer inspired routes and local contacts that you won't find anywhere else. We offer superb value for money and our guests say that our trips are worth every penny. Everything is included, from meals and drinks to accommodation and guides. We know, our guests are discerning people who understand the quality of our Walks. In fact they often say that they get far more than what they paid for. After all, how do you put a price on friendship and lifelong memories?
Wherever you walk with us, we want you to savor each step, because with India City Walks, each journey is the ultimate adventure of a lifetime.
What we do
There's no better way to experience the cities than to be on your feet and walk. We prepare our itineraries in such way that they let you explore the cities like a local. The best part about our walking tours is that you can do it in your own way and at your own pace in a group with an explorer or choose from the various independent options we provide.
We create personal connections with the locals and the areas we organise walks in, which keeps us closer to our vision of providing everyone an authentic local experience and plethora of information about the history and culture. We provide you with a number of choices keeping in mind the fact that each one of you is distinct and has different choices and interests.
We strive to exceed your expectations and make our walks even better every time and try our best to make your visit the most memorable one.
Connect with us through email nidhi(at)indiacitywalks.com or give us a call +91 989 969 2790
We take pledge:
We at 'India City Walks' solemnly pledge and reiterate our commitment to conduct our business in a manner that befits the culture and ethos of our rich and ancient civilization, and the tolerant and accommodating nature of our multicultural society and protects all individuals, especially women and children from all derogatory acts which are contrary to the spirit of our country. We hereby commit to abide by the Code of Conduct for Safe and Honourable Tourism.
Recognizing that every earth resource is finite and fragile, we further pledge to fully implement sustainable tourism practices, consistent with the best environment and heritage protection standards, such that my/our present tourism resource requirements optimize both local community benefit and future sustainable uses.
Team – India City Walks